The Butchers Club Bali Sponsors the BSF Bali Ocean Swim!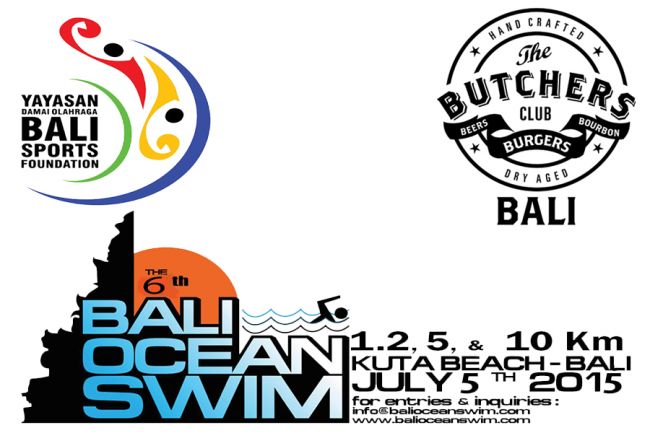 The Butchers Club, Bali is proud to be the sponsor for the sixth Yayasan Damai Olarahga Bali Sports Foundation (BSF) Bali Ocean Swim!
The swim will be held at Kuta Beach on Sunday 5th July 2015.Proceeds from the swim are used by the foundation to fund a swimming and water safety program for disabled children and youth in Bali.
BSF is working towards establishing the annual Bali ocean swim at Kuta Beach as one of the world's premier ocean swims. The ocean swim is held across three distances - 1.2km, 5km and 10km. The safety of swimmers is overseen by the Kuta Beach lifeguards (Balawista), to whom a donation is made. BSF have also been involved in establishing and supporting the Nippers program.
BSF, a registered Indonesian charity started by international sportsman and businessman, Rodney Holt, and now governed by a Board of Trustees, was established in 2009 with a mission: "To improve the lives of children in Papua, Bali & East Indonesia by using the power of sport and play for development, health and peace."
"The wonderful work that the Yayasan Damai Olarahga Bali Sports Foundation do within the community resonates deeply with me," said Colin Marshall, Managing Director of The Butchers Club, Bali. " I started swimming and surf life saving at around 6 years old and went all the way to representing Australia as a backstroker. In Australia we have access to incredible sporting facilities and opportunities, many of which simply are not available to the children and young people of Bali and I believe the work done by BSF is going a long way to opening up doors to people for whom they have long been closed. The Butchers Club are proud to be major sponsors of the 6th Annual Bali Ocean Swim."
For entries and enquiries visit www.balioceanswim.com or email info@balioceanswim.com
SHARE IT