How to cook a perfect Medium Rare Bone in Steak in a pan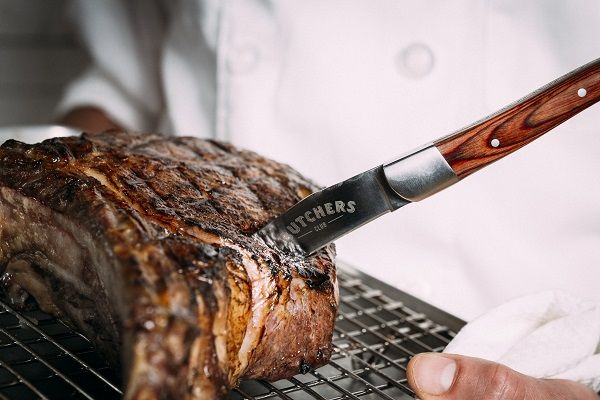 Learn how to cook a medium rare, dry aged on the bone ribeye or T-Bone in a pan with fresh Thyme, Butter and Garlic. This steak is perfect to share with a loved one and is a great introduction to dry aged beef.
Purchase your 1kg Dry Aged Black Angus steaks from the Butchers Club . This method can also be used for Poterhouse, T-Bone and Club Steaks.
Remove from the vacuum package and rest on a plate at room temperature for 1 – 2 hours before cooking.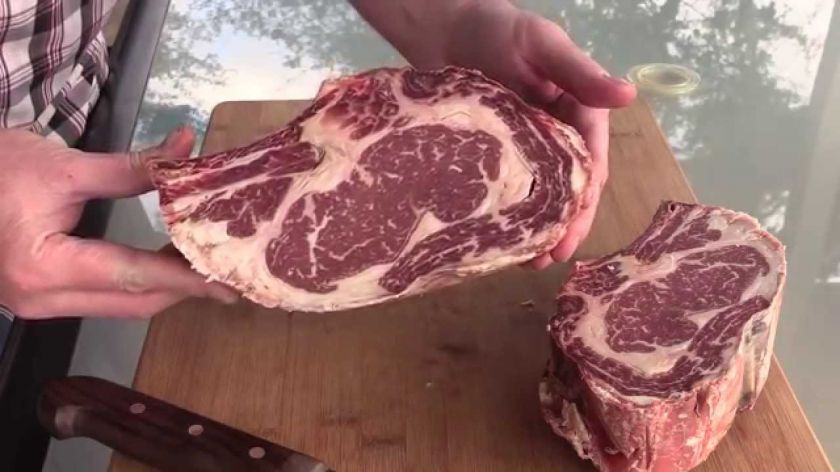 Season well with coarse sea salt and freshly ground black pepper. These are big steaks, don't be shy with the salt!
Add vegetable oil to a thick bottomed frying pan and heat until smoking. Make sure you have good ventilation or your kitchen will fill up with smoke!
Gently add the steaks and fry on a medium high heat for 3-4 minutes until a nice brown crust forms.
Flip the steaks and turn down the heat. Add 2 good sized knobs of butter, 3 sprigs of fresh thyme and 3 cloves of garlic.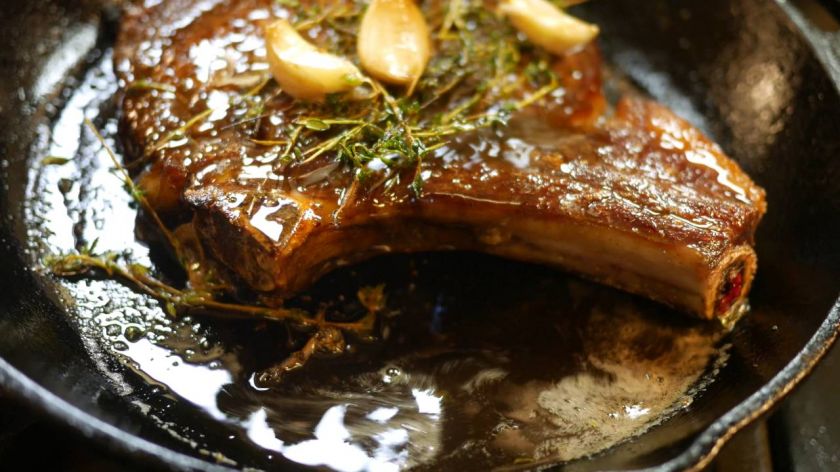 Baste the steaks with the butter using a spoon, continue to baste for around 3-4 minutes. Be careful not to burn the butter. Flip the steak again and continue to baste for 5 mins. Flip again and baste for a further 5 mins. That's a total of 18 minutes in the pan.
Use a skewer or small knife pushed into the thickest part of the steak to gauge the temperature. Place on your bottom lip and you should be registering a warm feeling for medium rare (not hot and not cold) if warm then you are good to start resting. If cold then continue to baste in the pan for a further 2 - 3 minutes.
Rest the steaks on a rack for at least 10 minutes. Resting allows the meat to relax and stops blood from oozing out onto the plate later. Baste with the remaining butter juices one last time.
Serve with a simple green side salad & chips, sprinkle a little sea salt over the steak just before serving. One Steak is good for 2-3 people.
Still unsure? Watch the Butcher Boys cook this exact steak in a pan and on a grill.
SHARE IT