Retro Steak Diane Recipe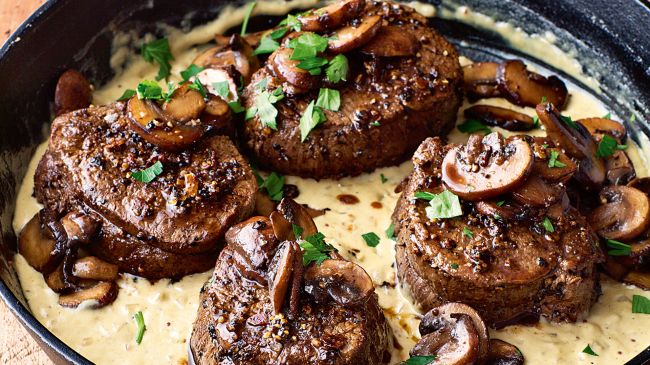 History of The Steak Diane
In the 19th century, sauces made "a la Diane" were dedicated to Diana the Rome goddess and was originally served as an accompaniment to venison. Sauce a la Diane was composed of cream, truffles, and ample amounts of black pepper. The first written mention of Sauce Diane comes from the culinary icon Auguste Escoffier in 1907. In this Artcile we teach you how to re-create the original recipe at home.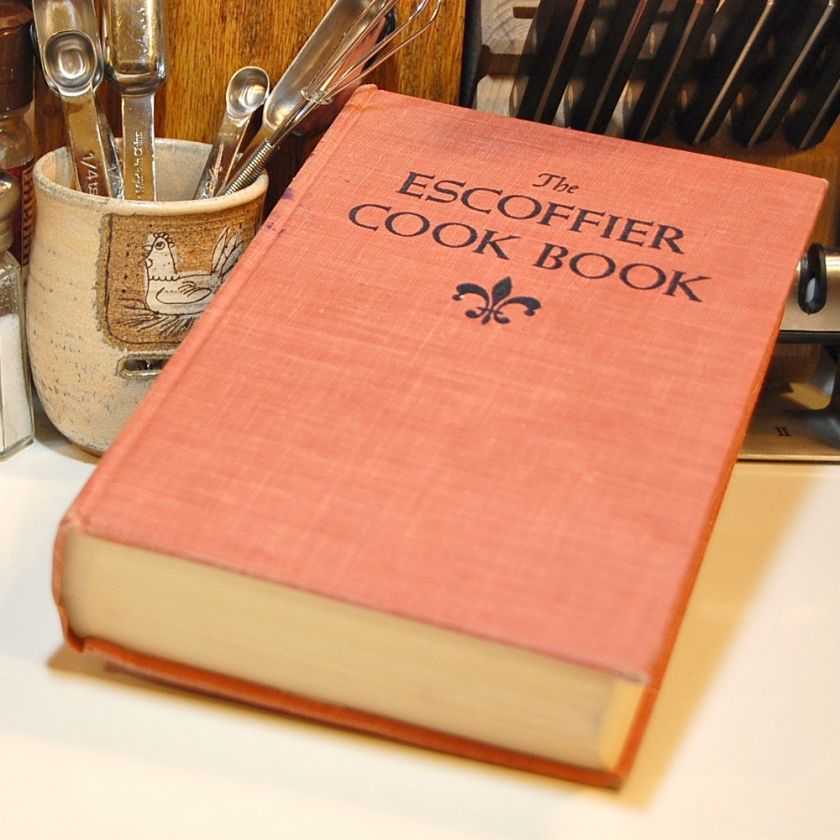 It appears that Steak Diane became widely popular in New York City in the 1940's. The Drake Hotel, the Sherry-Netherland Hotel, and the Colony restaurant are all possible contenders for its modern day birthplace according to a 1950's New York Times article.
One thing is for sure. Steak Diane was all the rage in the 50's and early 60's, especially in New York. A hot culinary trend at the time in upscale restaurants were dishes that could be flamboyantly prepared tableside. Steak Diane was traditionally done so; its theatrics arising from the flambéing of the cognac used to make the sauce.
Flambéing by the way is not just for show, it intensifies the flavor of the finished sauce. It works by the caramelization of the sugars in the dish which undergo a series of chemical changes due to the intense heat and give a depth of flavor that otherwise would be missing.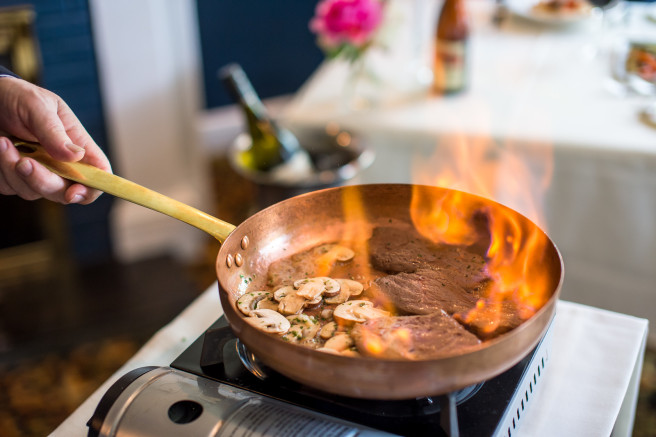 How to cook the Perfect Retro Steak Diane
Ingredients for 4 pax
4 x black Angus ribeye steaks, approx 300 grams each
4 shallots, peeled and finely chopped
150 grams of field or button mushrooms thinly sliced
2 tablespoon salted butter
2 garlic cloves, peeled and minced
2 tablespoons Worcestershire sauce, to taste
2 teaspoon English mustard
1/4 cup brandy
200 ml double cream
Handful of flat-leaf parsley - chopped
Method
See how to season and cook the perfect ribeye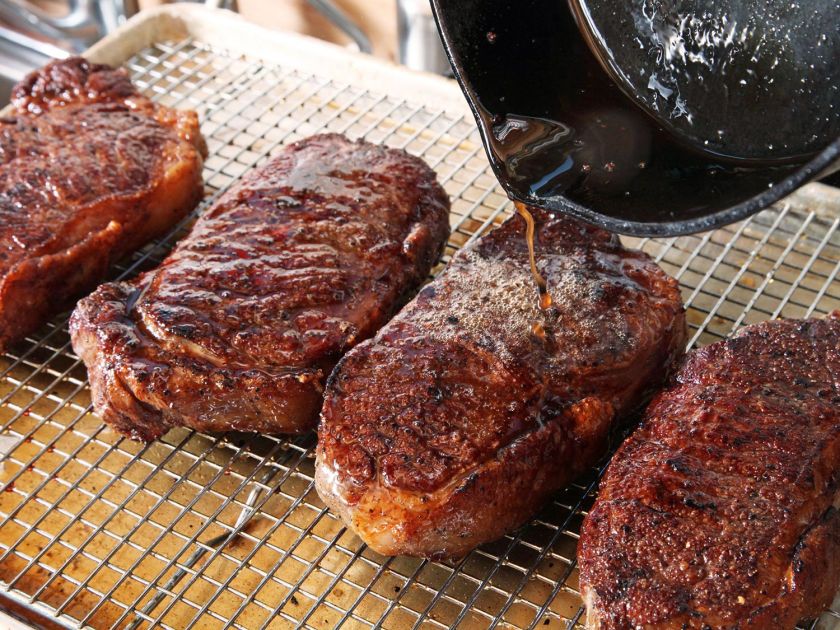 Follow the above links directions, while the steaks are resting prepare the sauce.drain most of the butter, garlic and thyme from the pan that you cooked your steaks in, Add a little more vegetable oil to the pan, add the sliced shallots and allow to soften, add the sliced mushrooms along with a tablespoon of butter, add the minced garlic and saute together for around a minute or two. Add the Worcestershire sauce and bring to boil. Turn up the heat and tilt the pan away from you and add the brandy, tilt it right towards the edge of the pan and allow it to set on fire from the gas ring (or light with a match). Turn down the heat and add the cream and the mustard, bring to a light boil.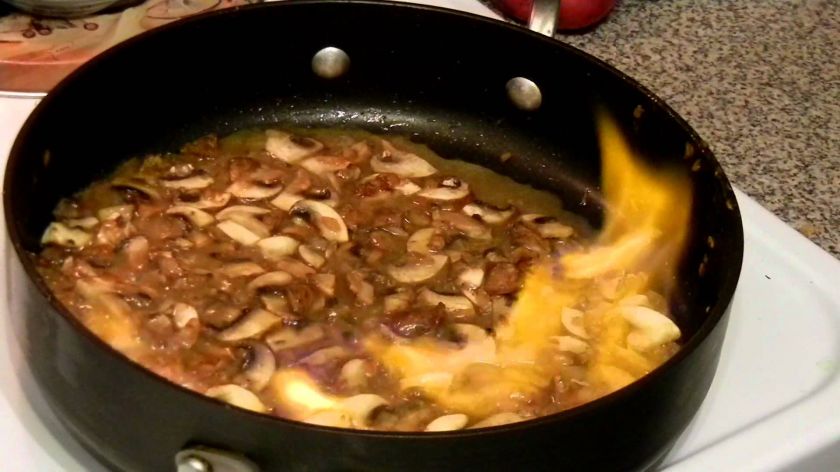 Introduce the steaks and the juices from the resting tray back into the pan. You can cook a little longer at this point if you prefer your steak medium.
Add half of the chopped parsley to the pan and stir. Place the steaks onto to a warm plate then spoon the sauce over the steaks, sprinkle with the remaining chopped parsley. Or serve them in the pan placed onto the center of the table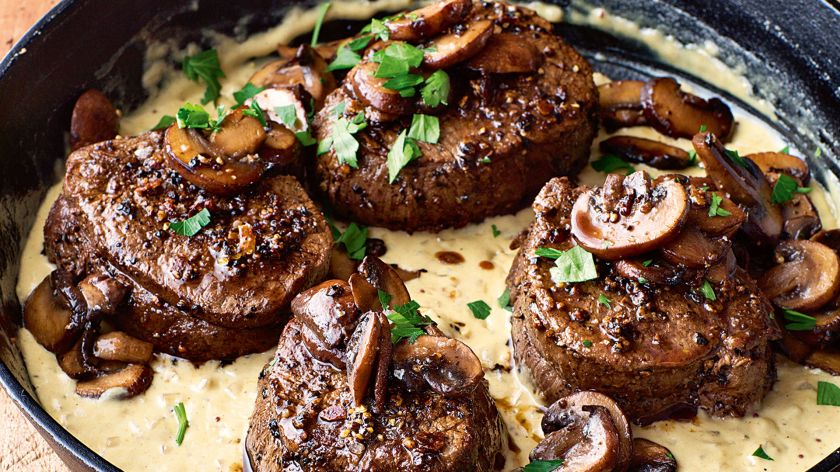 SHARE IT