Ribeye Steak with Green Peppercorn Sauce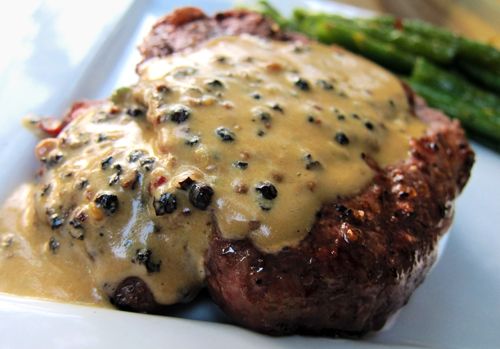 Steak with Green Peppercorn Sauce became hugely popular in the US in the early 1960's and was traditionally flambeed tableside using cognac to make the sauce.
Flambéing by the way is not just for show, it intensifies the flavor of the finished sauce. It works by the caramelization of the sugars in the dish which undergo a series of chemical changes due to the intense heat and give a depth of flavor that otherwise would be missing.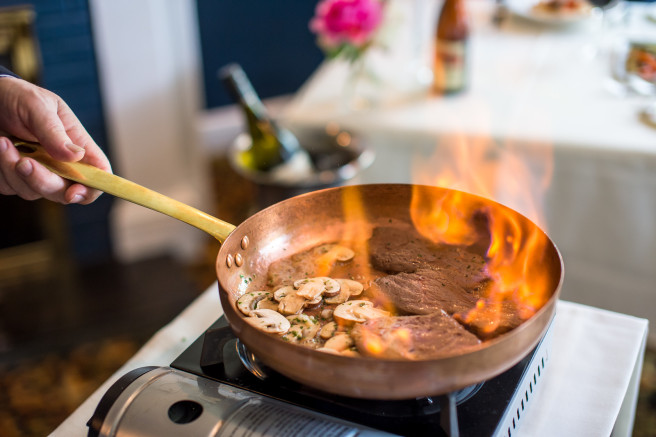 How to cook the Perfect Green Peppercorn Steak
Ingredients for 2 pax
• 2 x black Angus ribeye steaks, approx 300 grams each
• 2 shallots, peeled and finely chopped
• 1 tablespoon of canned/bottled green peppercorns (lightly crushed to release the falovour)
• 2 tablespoon salted butter
• 1 garlic clove, peeled and minced
• 1 teaspoon English mustard
• 1/4 cup brandy
• 100 ml double cream
Method
See how to season and cook the perfect ribeye.
While the steaks are resting prepare the sauce.
Add a little vegetable oil to the pan that you cooked your steaks in, add the sliced shallots and allow to soften, add slightly crushed green peppercorns along with a tablespoon of butter, add the minced garlic and saute together for around a minute. Turn up the heat and tilt the pan away from you and add the brandy, tilt it right towards the edge of the pan and allow it to set on fire from the gas ring. Turn down the heat and add the cream and the mustard, bring to a light boil and reduce.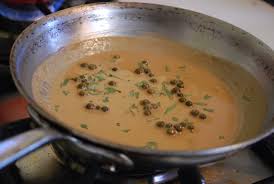 Introduce the juices from resting tray back into the pan.
Place the steaks onto to a warm plate then spoon the sauce over the steaks.
Special offer on Black Angus Ribete Steaks
SHARE IT