The Easter Southside Market is Back on Sunday, 16 April!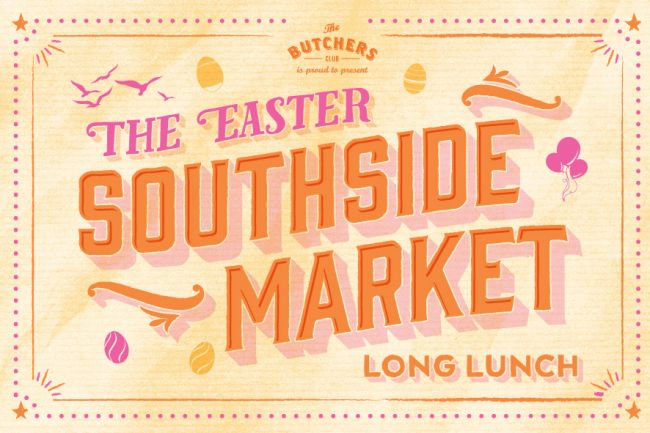 For a fun-filled Easter-themed affair, and to venture out of the city to the Island South on the new MTR line, there's nothing better than The Butchers Club's special Easter Southside Market Long Lunch on Sunday, 16th of April.
Hong Kong's favourite dry-aged meat connoisseurs strike again—this time by presenting a day of delicious food and endless entertainment that you and your family aren't likely to forget. Grab the kids and head on up to The Butchers Club's expansive 17th floor rooftop event space in Wong Chuk Hang, where The Southside Market Long Lunch will kick off from 12pm – 4pm on Easter Sunday (16 April).
Following the overwhelming success of the sold out Halloween Southside Market & Long Lunch and Christmas Shopping Market & Long Lunch, each hosting more than 400 guests, the upcoming Easter Southside Market & Long Lunch will feature a sumptuous buffet lunch, live band and a number of selected food & beverage, magazine, fitness and other small business vendors.
All participating vendors will be announced within the first week of April. Face painters, lawn games, a delicious Easter lunch menu—which will satisfy both meat lovers and vegetarians alike—and a 16th floor kids' cinema will keep the little ones amused, while adults can hit up the free-flow bar and have a ball of their own.
There will be live music performances throughout the day, competitions and games for both kids and adults. For the little patrons, expect endless entertainment including an Easter egg hunt, face painting, an Easter egg painting booth and Egg & Spoon Races, as well as a mini cinema downstairs on the 16th floor for kids looking for a little downtime.
THE MENU
Salad Station
Warm pasta dish (v)
Green leaf salad with tomatoes, red onion and cucumbers (v)
Chickpea salad with chilli, parsley, lemon and feta (v)
Vegetarian Turkish potato salad (v)
Smoked turkey salad
Spit & Carvery
Greek-Style Lamb Shoulder served with tomatoes, red onion, feta wrapped in pita bread
BBQ
Grilled fish with salsa verde
Hanger steak with creamed horseradish
Chicken breast
A Limited number of vegetarian burgers available upon request
Perfect Porkers
Roasted pork belly
All served with poppy seed brioche bun, spicy coleslaw and apple tarragon sauce
TICKETS
All guests over the age of 4 must purchase the All-You-Can-Eat Food Package for $250 (children who are 3 years of age and below are free) and adults can add-on the Free-Flow Cocktails, Wine and Beer Drinks Package ($200 online and $250 at the door). Head to The Butchers Club Online Store to pick the package best suited to you!
Due to the overwhelming response to our previous Southside Markets, we will not be accepting walk-ins or additional bookings if the event sells out. Sorry, folks! We need to know exactly how much food and booze to bring you.
SHARE IT