Valentine's Day Hampers from The Butchers Club Online Store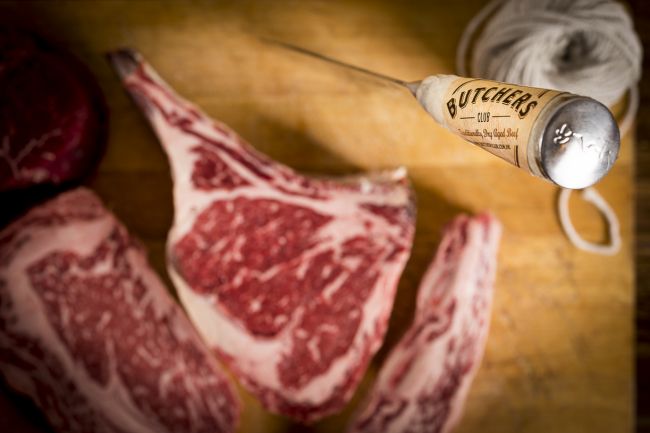 Enjoy Valentine's Day at Home with Thoughtfully Curated Hampers from The Butchers Club
In is the new out, and The Butchers Club has everything couples need for a convenient yet delicious Valentine's Day date night at home.
A range of three quality cook-at-home Valentine's Day hampers have been created by the renowned meat experts, making for a romantic dinner for two with all of the trimmings.
Starting at just HK$588, the thoughtful kits each come with steak for two, flavourful veal jus, sous vide baby carrots and new potatoes, as well as a bottle of the ultimate foodie wine — South African Alto Shiraz, a fruit-forward pour that is a perfect partner for beef.
Three carefully curated packs have been created to suit any budget. Beginning with the Classic Hamper, lovers can enjoy a simple yet delicious meal of two 300g Australian sirloins whilst the Deluxe Hamper (HK$758) ups the ante with an impossibly tender Filet Mignon, cut from the heart of the tenderloin, for two.
Of course, Valentine's Day is all about grand gestures, making the Premium Hamper (HK$1088) the obvious choice for lovers looking to spoil their better halves. A jaw-dropping 1kg portion of premium Dry-aged USDA Bone-in Ribeye are accompanied by portions of rich Foie Gras Terrine for the most decadent of home-cooked meals. Distinguished by abundant marbling that bastes the meat as it is cooked, the bone only further adds to the rich flavour of this fantastic cut. A steak this fine deserves only the best tableware — a pair of The Butchers Club's steak knives ensure that consuming the meal is as simple as creating it, and make for a precious momento from a night couples are sure to remember.
The Butchers Club Valentine's Day hampers are available from now until February 19. Order by 9am via http://www.store.thebutchers.club/ for same day deliver on Hong Kong Island. Delivery appointments are also available. For in-shop purchases at any The Butchers Club Burger branches, next day pick up is available after 3pm.
- 2 X 300gr Fresh AUS Sirloin steaks Boneless
- 1 bottle Alto shiraz
- 2 portions of veal jus
- 2 portions sous vide baby carrots
- 2 portions sous vide baby potatoes
- 1 X Filet Mignon for 2
- 1 bottle Alto shiraz
- 2 portions of veal jus
- 2 portions sous vide baby carrots
- 2 portions sous vide baby potatoes
- 1 X 1kg Dry-aged USDA Ribeye Bone-In
- 2 portions of Foie Gras Terrine
- 1 X Alto shiraz
- 2 portions of veal jus
- 2 portions sous vide baby carrots
- 2 portions sous vide baby potatoes
- 2 Butchers Club Steak Knives
SHARE IT