Anime Fries - Umami Bomb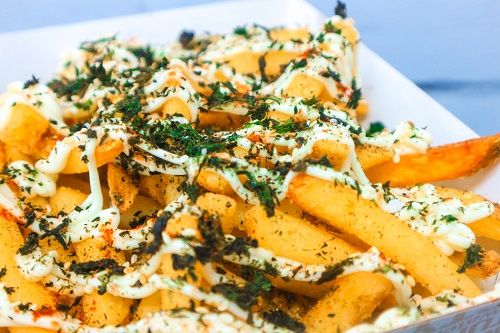 Crispy, Crunchy, Sweet, Salty, Spicy = Umami. These are the taste sensations encountered when tucking in to The Butchers Club Anime fries. We have taken the best parts from America and Japan and combined them to make an exceptional dish that accompanies our burgers, steaks and salads excellently.
Lets start with the fries, thinly cut Idaho potatoes that are soaked to remove as much starch as possible then twice fried in vegetable oil to a beautiful crispy golden brown. They are drained and immediately tossed in Togarashi salt (Japanese Sea Salt and a combination of ground Chili's) this gives the initial kick and saltiness
The fries are then placed into a tray and lavishly squirted with Kewpie Sweet Mayonnaise (a creation from Japan and regarded as the worlds' finest Mayo).
The fries and Mayo are then carefully sprinkled with at true Umami bonb – Furikake (A dry Japanese Seasoning made from dried fish, toasted sesame seed and, dried seaweed.
Lastly the whole dish is liberally topped with Katsuobushi/Bonito flakes. This is a made from dried, fermented and smoked skipjack tuna and adds anoter layer of flavour and texture.
SHARE IT