The Butchers Club Burger Stays Open for Lunch at The Secret Kitchen in Wong Chuk Hang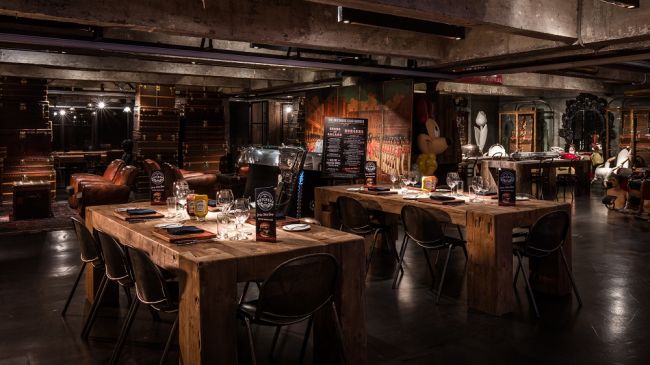 A Michelin-Listed Burger with a Side of Vintage Louis Vuitton
The Butchers Club has once again completely turned the traditional burger experience on its head by opening the weekday lunch-only diner amongst The Secret Kitchen's antique shop. The dry-aging specialists have recently added a fifth Butchers Club Burger outlet to their Hong Kong collection - hidden in their unique private dining and events space on the south side of Hong Kong Island. Imagine tucking into a Michelin Guide-listed burger while sitting in the middle of Titanic-era Louis Vuitton trunks, a vintage roulette table from the golden age of Monte Carlo and writer's traveling cases owned by the likes of Sir Arthur Conan Doyle.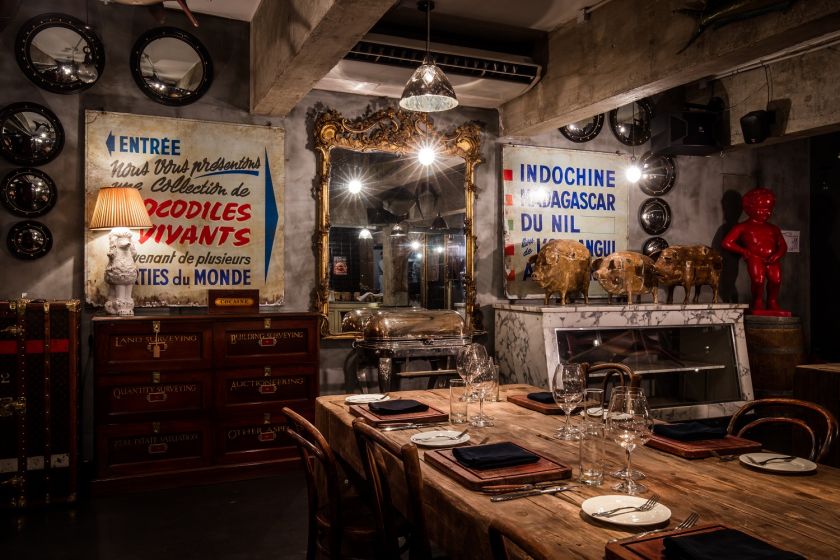 Guests reach this one-of-a-kind venue by entering the Wong Chuk Hang industrial building by first passing graffiti created by local artists before making their way through the loading bay of a bakery and finally boarding an old school manual lift. Once at the 16th floor loft, an ever-rotating collection of eclectic pieces from around the world greet guests before they make their way through a floor-to-ceilling wall of Louis Vuitton trunks to order their burgers, salads, wings or duck fat fries.
And the lunch menu does not disappoint - the gangs all here. From the original and Michelin Guide-listed bacon cheeseburger (The Burger, $100) to the new vegetarian kid on the block (Beyond Classic, $120) to the popular Red Fire Rooster Wings (half portion, $50; full portion, $88) to the fresh summer salads made up of locally-grown organic greens with a choice of three proteins (Signature Dry-Aged Beef Patty, Breaded Free-Range Chicken Thigh, Crumbed New Zealand Ling Fish).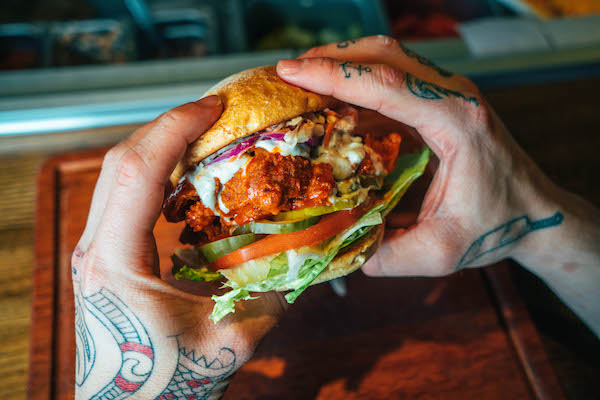 The new South Island MTR Line linking Admiralty to Ap Lei Chau, via Wong Chuk Hang and Ocean Park, has opened up the industrial area to the east of Aberdeen to a bevy of Hong Kong professionals from the worlds fashion, art, design, home décor, beer brewing, outdoor adventuring, skating and more.
The Butchers Club Burger at The Secret Kitchen is opened Monday to Friday from 11:30 – 2:30 (closed on Public Holidays). Delivery orders in the area are available via Deliveroo.
The furniture in the gallery is supplied by Rare By Oulton https://rarebyoulton.com/
SHARE IT