The Secret Art of Making a Gourmet Sausage at Home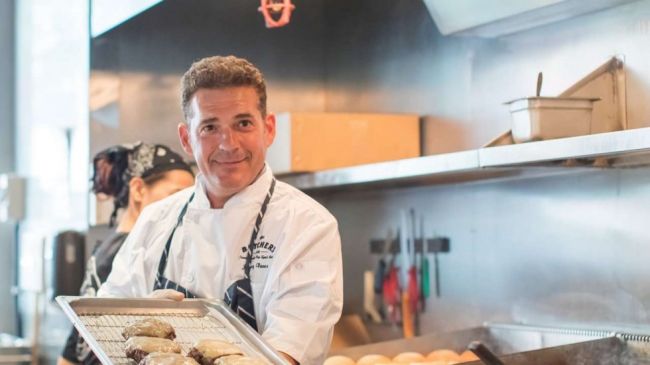 Jonathan Glover is the Founder of The Butchers Club and Pacific Gourmet in Hong Kong, he is a self-taught Butcher, Fish Monger and Sausage Maker.
Read Jonathan's tips on the art of making the perfect 'fresh' sausages at home.
1. Let's start with texture.
It's quite simple really, sausage is meat in a tube, but to get it right is easier said than done and to do it well can be quite a complex endeavor. We should start thinking about texture, these tips are based around producing a coarse fresh sausage. This texture is achieved using 4 main ingredients; meat, fat, liquid and salt (plus casings)
A fresh sausage 'Butchers Club Style' is going to be coarsely ground and uses a large ratio of meat, a reasonable amount of fat and a small amount of liquid and salt. As a rule of thumb a smooth sausage such as a frankfurter is going to have more fat and if you have more fat then you will need to add more liquid.
Quite like bakery and patisserie It really comes down to your recipe and ratios of meat to fat, liquid and salt, so be sure to use a tried and tested recipe as a base to your sausage making. Adding the seasonings is what makes your sausages unique and this is where budding sausage makers can get creative.

2. 2. 2. Butchering the meat
Once you have your meat and fat, you need to take it off of the bone and cut it into small pieces that will fit into the opening of your grinder. If you are using 2 or more different cuts of meat then I suggest that you cut and then mix them well together before putting through the grinder. It's important not to force the meat otherwise you will bruise it which affects the texture and also heats up your mix.
Keep the meat cold! It grinds much better when chilled and we recommend that you place your cut meat into the freezer for 10 minutes before grinding. At the Butchers Club, we use a refrigerated grinder which helps keep the meat chilled this preserve the cell structure allowing the liquid and fat to be absorbed in the mix evenly, thus giving a juicy sausage when cooked.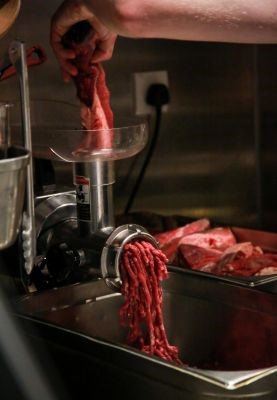 3. Chill but don't freeze the grinder parts
I suggest putting your grinder parts in the fridge for a few hours before you put them to work, however avoid the freezer otherwise the meat will stick.
4. Invest in the right equipment.
A sharp grinder blade and plate is the most important thing, you can buy replacement parts for most grinders at your commercial kitchen suppliers. I suggest ordering 2 or 3 blades as extras when you buy your grinder or KitchenAid Attachments.
If you are serious I would recommend a tabletop ½ horse power grinder for home use, (approx. HK$2.5k). otherwise a KitchenAid will suffice and as a last resort, a hand cranked mincer could be used if the blade is sharp enough.
For stuffing I highly recommend investing in a vertical stuffer, you can purchase a 2.5-liter contraption online from China for around HK$1.5K. Order extra seals because they do break. The KitchenAid attachment is slow and difficult to control and generally means you need to grind the mix again to get it into the sausage tube.
5. Combine your ingredients by hand, do it gently and take your time.
When you mix your meat, fat, liquid and dry ingredients together, be careful not to overwork the mixture but at the same time incorporate it well. Over mixing creates heat and sends the meat strands all pointing in different directions resulting in a tough product, fold and incorporate in a circular movement. The mixture should be tacky and stick to the side of the bowl.
At this point I will usually taste some of the raw mixture to get a feel for the flavours (not recommended with raw chicken) I will also make a small patty and slowly fry it in a pan to gauge the seasoning, fat and liquid content. At this point it is possible to adjust your ratio slightly if needed, think about a chef tasting a dish as they go through the recipe process.
One other tip is to soak your natural hog or lamb casings in running cold water for a couple of hours. This not only removes the salt but makes them more malleable and easy to stuff.
6. Resting the Sausages
Resting your sausage over night before cooking, packaging or freezing makes a big difference to the texture and flavour. It's best to hang them in their link form in the fridge for 6-12 hours. I personally bunch 5 kg of linked sausages together and hang them from a meat hook in the walk-in (covered by a large plastic bag) the resting allows the flavours to meld together and the liquid and fat to emulsify.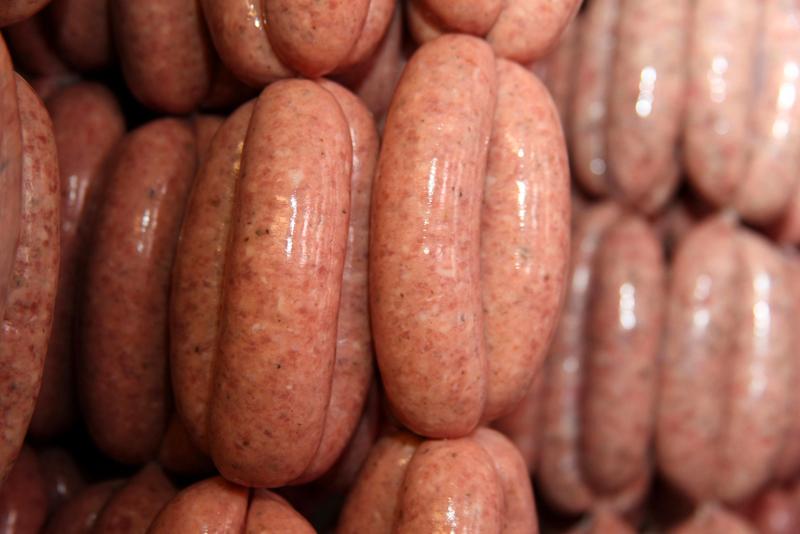 7. Cooking it to perfection!
After investing so much into getting to this point it would be a shame to mess it up now. Whether you poach it, smoke it, grill it, bake it or pan fry it, you should to go slow and on a low heat. Cooking a sausage fast will cause the liquids to boil and burst the skin, at the same time releasing the juices and flavours out of your sausage.
In an ideal world, I slowly poach my sausages in beer for a few minutes until 75% cooked, I then let them rest for a further few minutes before grilling over charcoal at a medium heat, this adds colour, crisps up the skin and adds a smokiness to the delicacies.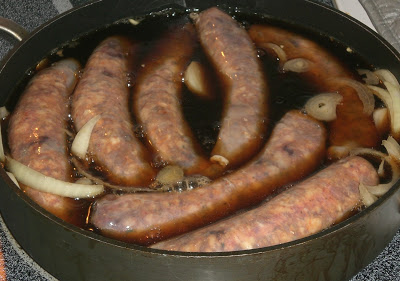 If you are interested in getting a crash course in sausage making you can enroll in The Butchers Club Sausage Making Class as an individual or small group. If you can't be bothered, then you can buy them already lovingly made directly from the Butchers Club Online Store Here….
The Butchers Club can also accommodate private evening sausage making classes from 10 – 50 pax with free flow beer and wine packages starting at HK$ 1100 per person. This makes a great special event or corporate team building exercise. Find out more here
SHARE IT