Thrice Fried Duck Fat Fries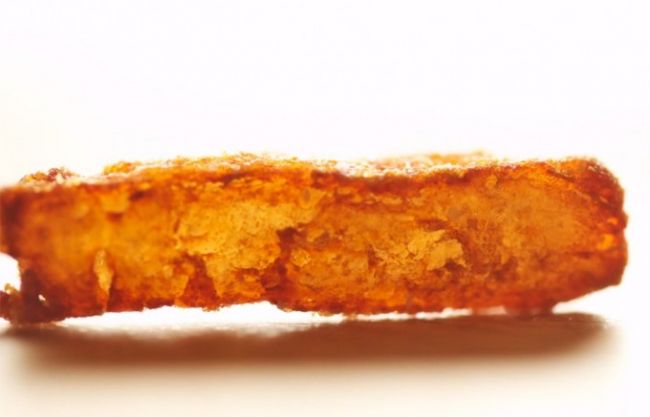 The Butchers Club has become synonymous with their duck fat fries, and that's not surprising because they really are very good! But to achieve that 'crispy on the outside and fluffy in the middle' consistency isn't that easy, it takes a lot of work and technique to get it right, this is how we do it…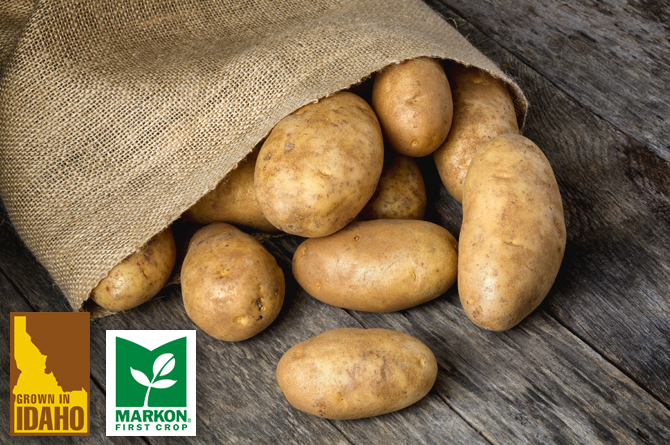 The Raw Materials
Only the best spuds will do, we strictly use US Idaho Russet potatoes, they have a low moisture and high starch content which is the perfect combination for a thick cut chip. The flavor is sweet and earthy which we feel works so well with our duck fat fries. This species of potato is the most consistent year round, however the starch and sugar levels do vary at different times of the year and you may note slightly darker chips during the winter months.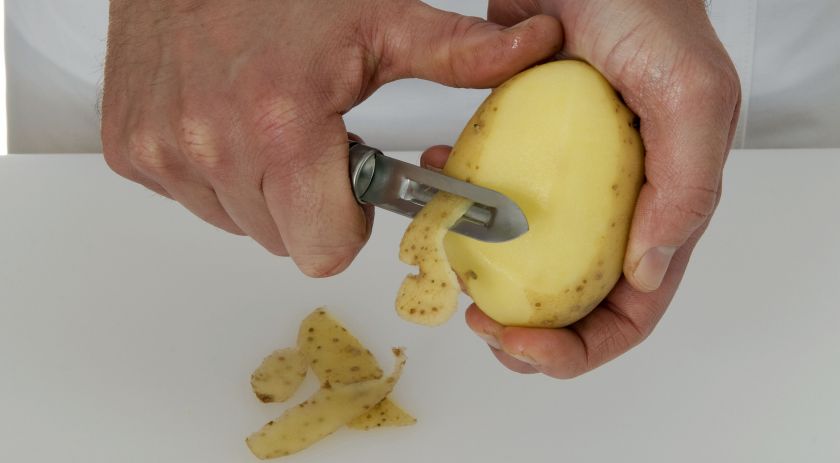 Preparation
We start by peeling off the skin, doing this in 500 kg batches is no mean feat and takes two people all night to do it. We then chip them into thick wedges and rinse in fresh water for a full day to remove as much of the starch as possible. We then drain and dry them ready for the first fry.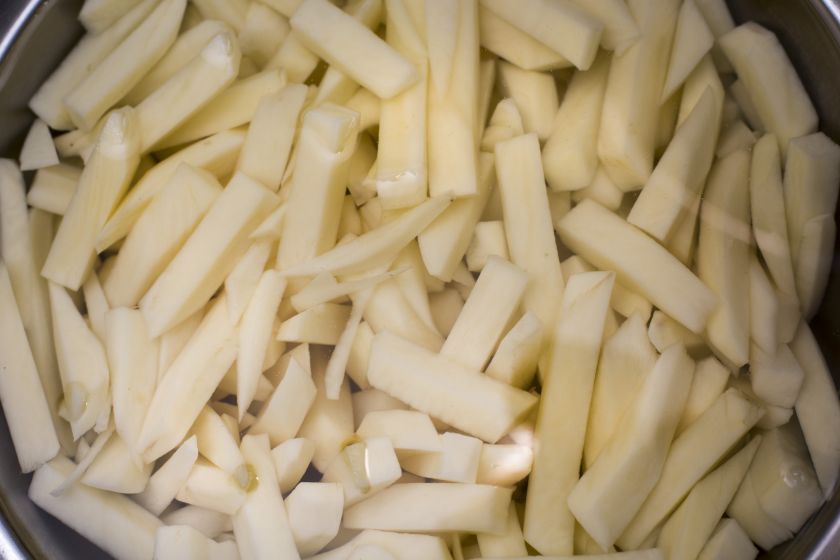 The First Fry
Using good quality vegetable oil we slowly blanche the chips at a low temperature of 120 celsius for approximately 10 minutes, they are drained and chilled in the refrigerator before going back into the fryer for their second cook. Chilling in the refrigerator removes moisture and draws out starch.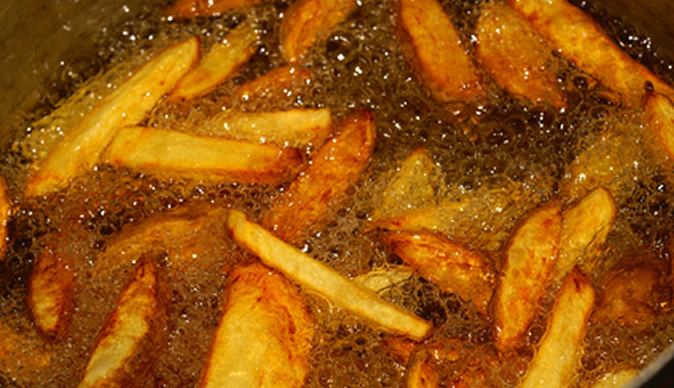 The Second fry
The cold chips are fried at a slightly higher temperature of 140 degrees celsius for 5-6 minutes until 90% cooked, a slight amount of colour is gained during this process. They are removed from the oil and drained, then passed through a vacuum machine (still hot) to draw out starch from the middle to the outside, this is what makes the chips extra crispy during the last fry. The chips are chilled a second time and stored for the final fry in the restaurants. Chilling removes even more moisture which creates a crunchier finished product.
The Third & Final Fry
In duck fat, at a super high temperature, the chips are dunked for approximately 2 minutes to reheat, crisp up and to brown. During this final process the insides fluff up as they rapidly steam and expand, the outsides take on that dark brown colour and crunchy consistency.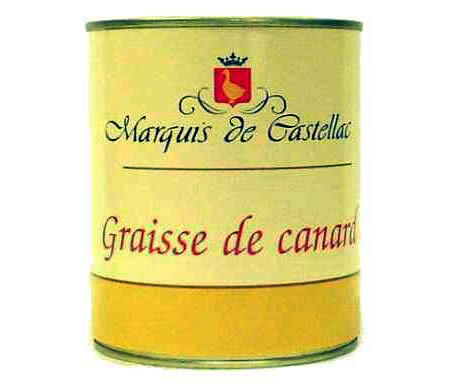 Why Duck Fat?
Duck fat has a higher smoking point than vegetable oil which helps to crisp up the chips and gives a less greasy finished product, it also imparts a unique flavor and smell to the finished fries. We season with kosher sea salt and serve to you with love.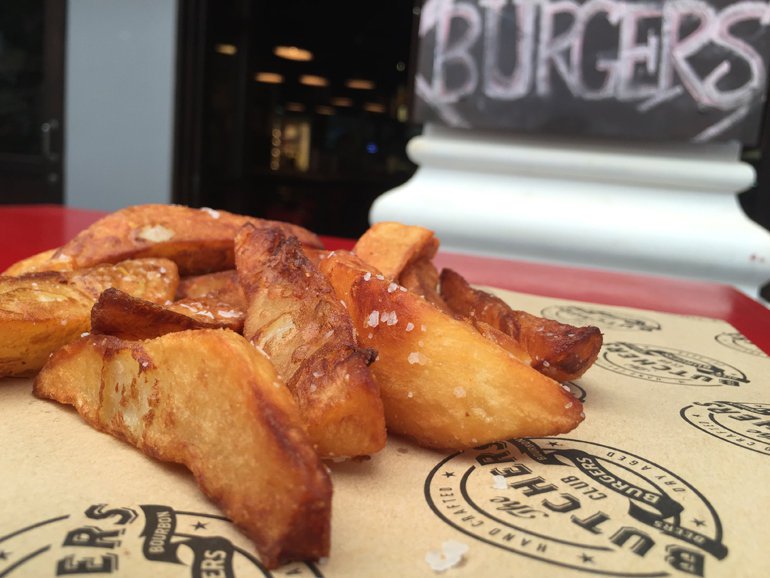 Special Offer
Throughout November and up until December 16, customers can sample a free potion of our famous Duck Fat Fries (normally HK$30) when purchasing a 'Classic Burger' using any HSBC Credit Card.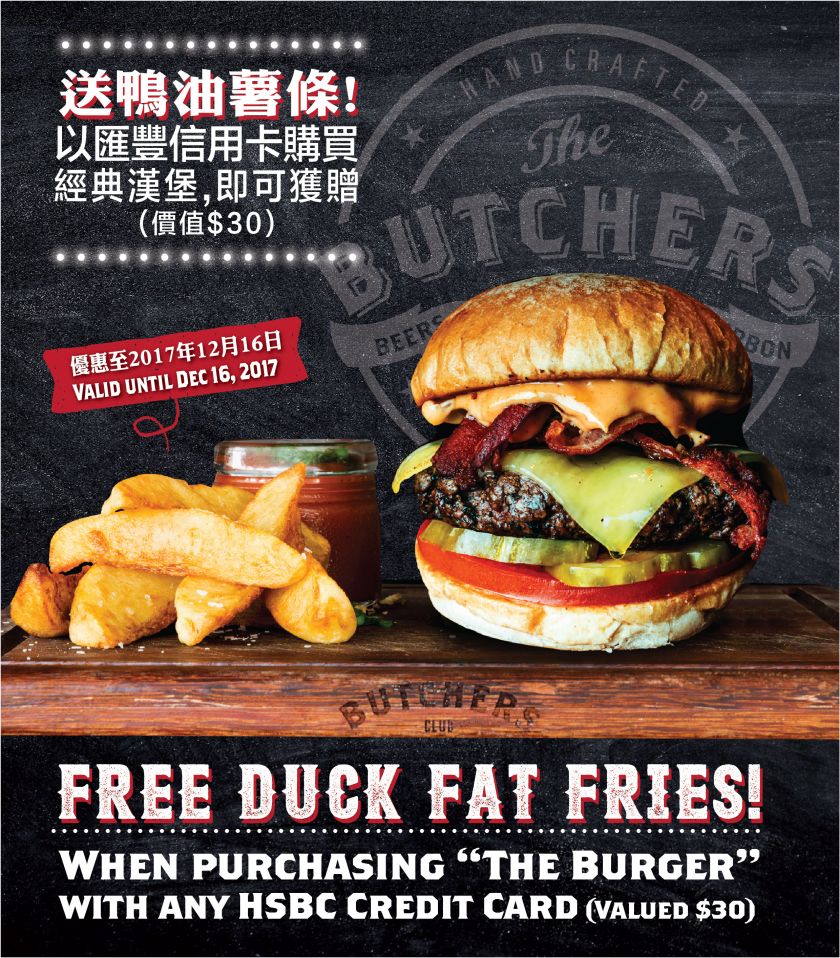 SHARE IT