Say Hello to a 2-4-1 Offer on Beyond Meat Burgers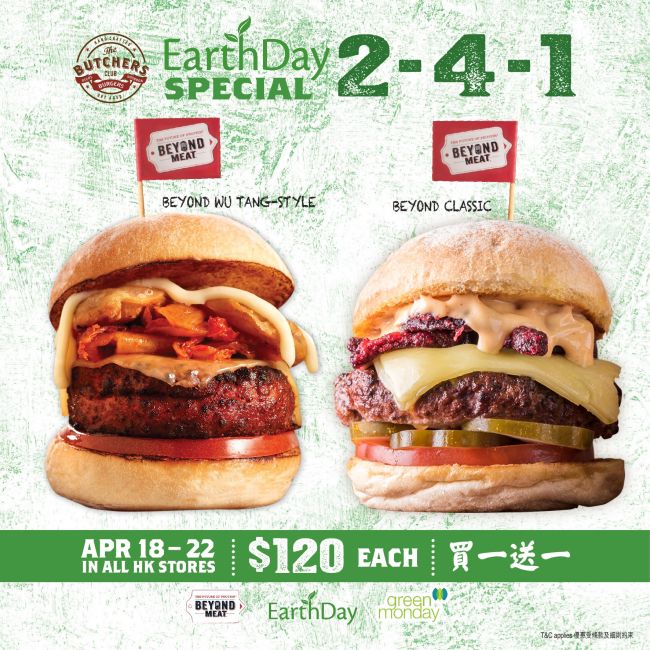 The Butchers Club Burger embraces Earth Day this year by offering two-for-one Beyond Meat vegan burgers at all Hong Kong locations, starting April 18th until Earth Day on April 22nd.
Since joining forces with Beyond Meat, The Butchers Club Burger's plant-based items have made a serious impact on the Hong Kong food scene, encouraging even dedicated meat-lovers to embrace a greener diet and lifestyle.
The Beyond Classic (HK$120), a play on The Butchers Club Burger's original Michelin-listed dry-aged beef and bacon cheeseburger, and Beyond Wu Tang-Style (HK$120), a vegan alternative to the fiery Korean-inspired favourite, are both available as part of the promotion. Available until Earth Day, this is the perfect opportunity for veggie-skeptics to give the flavour-packed Beyond Burgers a taste and ditch the idea of vegan burgers as an afterthought.
Terms and conditions:
1. This offer cannot be used in conjunction with any other discount, special offers or coupons.
2. This offer cannot be redeemed for cash or any electronic money and is non-transferable to other products.
3. In case of any disputes, The Butchers Club Burger reserves the right of final decision.
4. This promotion runs from the 18th - 22nd April or while stocks last
條款及細則:
1. 此優惠不可與其他折扣、優惠或優惠券同時使用。
2. 此優惠不可兌換現金、任何電子貨幣或其他貨品。
如有任何爭議,The Butchers Club Burger保留最終決定權。
SHARE IT